Showcasing an array of unique techno-inspired sounds returns the Berlin based dubstep producer
Ziplokk
with his 3rd EP release on the well-known low-end Swiss imprint
Subotage Records
. With solid, successful, well-received releases from
Love The Cook
,
Shu
and
Zecher
to name a few,
Subotage
's 18 official publications range from deep, dark, dubstep, through oriental, eastern flavours of the genre to drumstep, electronica, breakbeat and beyond. With a surge of creativity and inspiration from the techno range of electronic sounds,
Ziplokk
explores further the fusion of the two worlds into one with his latest 4-track EP, featuring remix support from
Love The Cook
.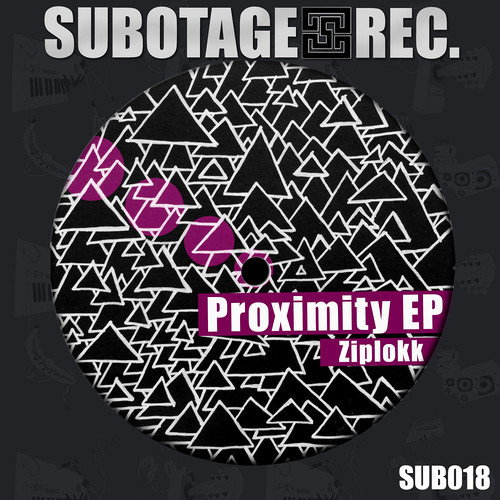 Building off of a retro inspired synthesizer lead, the EP opener and title track
Proximity
presents itself as a groovy, quick-moving roller, retaining a slightly lighter, more playful feel than previous productions while still showcasing his usual dark, razor sharp mid-growls, distant, windy atmospheres and busy, complex percussion rhythms. Diving into a wider, melodic soundscape the track
A.N.T
rolls comfortably through a sea of sharp, swelling, crystalline synthesizers, warm, dreamy pads, impressively crafted mid-growls and mysterious, partially incomprehensible voice clips, explained by Zip himself to be heavily inspired by his track
Flying Deep Space
from
SUB010
, revisiting a similar vibe, this time with a few more pieces of the puzzle. Blasting forward, the track
The Street
is a deep, 140 techno roller, combining and fusing the darker sounds from multiple genres over the course of 7 tension building and releasing minutes. Closing the EP comes
Love The Cook
's treatment of the title track
Proximity
, proposing a deeper, darker, minimalistic half-time version of the tune.
- Conscious Wave
https://facebook.com/ziplokk.dubstep
https://twitter.com/ziplokkdubstep
https://soundcloud.com/ziplokk
https://facebook.com/subotagerecordsnetlabel
https://youtube.com/user/subotagerecords
https://soundcloud.com/subotagerecords
https://subotage.bandcamp.com
http://subotagerecords.com